Octave Audio becomes First Digital Audio Business Awarded with IAB Gold Standard 2.1 Certification
Wednesday 18 January 2023
Octave also recently achieved a Brand Safety Certified Seal by TAG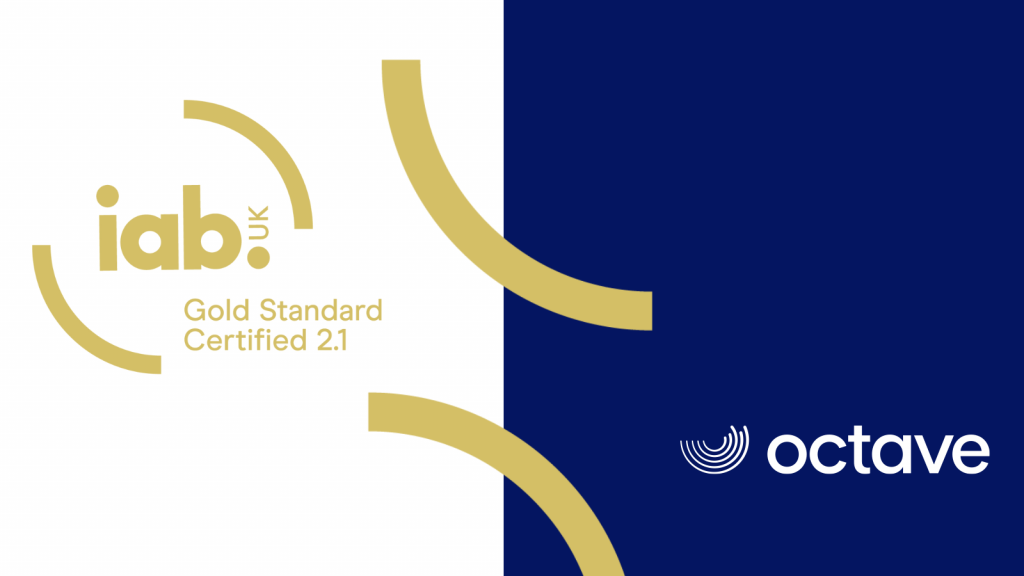 Octave Audio has attained the IAB Gold Standard 2.1 Certification, becoming the first digital audio business to be awarded this accreditation under the latest IAB standard.
The IAB Gold Standard award process thoroughly examines brand safety, ad fraud, consumer experience and privacy standards within an advertising business. The standard works to push the industry forward, showing the importance of rebuilding trust in a complex media environment.
Furthermore, Octave received its brand safety certified seal by the Trustworthy Accountability Group (TAG), demonstrating Octave's commitment to protecting brand safety through the adoption of industry best practices and compliance with rigorous brand safety standards, as verified through a third-party audit conducted by ABC.
Octave's ongoing mission is to continue to put transparency first, creating effective, addressable advertising in a safe environment. Knowing and understanding audiences is at the core of the business and leads to better relationships between advertisers and audiences.
Tom McKay, Head of Product and Strategy at Octave Audio said: "As the UK digital audio industry continues to grow, the importance of engaging with and upholding industry-wide standards is key to the digital audio medium, fulfilling its vast potential. Being one of only a handful of digital audio businesses to achieve the IAB gold Standard 2.1 & TAG Brand Safety Certified Seal, this firmly cements Octave's position as a frontrunner in innovation and shows a firm commitment to upholding standards for our clients."
Simon Redlich, Chief Executive at ABC said: "We're delighted that Octave Audio has completed our audit to demonstrate compliance with the TAG Brand Safety Certified guidelines. Achieving BSC certification shows they're committed to adopting the high standards necessary to protect themselves and their customers in the important area of brand safety."
Chloe Nicholls, Head of Ad Tech at the IAB UK said: "A huge congratulations to the team at Octave Audio on their Gold Standard 2.1 certification! Octave is one of the first of our members in the audio space to become Gold Standard certified, after we developed the criteria in 2022 to incorporate businesses involved in digital audio, CTV and gaming. It's really exciting to see the Gold Standard evolve into digital audio, reflecting the huge growth this sector is seeing, and we greatly value Octave's active support for the Gold Standard as we work to uphold shared industry standards."
Jules Kendrick, MD UK and Europe at TAG said: "Implementing robust brand safety measures has become a basic requirement for most marketers and agencies when selecting their digital advertising partners. By achieving TAG's Brand Safety Certified Seal, Octave is demonstrating its commitment to reducing the risk of ad misplacement and therefore protecting it's clients from potential brand damage. We look forward to working with Octave to continue to raise brand safety standards across our industry."
For more information on this press statement, please contact:
Sophie Donovan, Senior Marketing Manager, Octave Audio:
About Octave
What happens when you throw Bauer and News UK in a room together? You get Octave Audio, a collaborative start-up with access to 48% of all online commercial listening and over half a billion ad impressions every month. We build effective, addressable digital audio campaigns using high-quality data from our shared pool of media titles, podcasts and apps. Let's get you heard by the right people.
For more information go to octaveip.com
Source: RAJAR Q3 2022
About ABC
ABC is a leading industry-owned auditor for media products and services, with specialist skills in digital ad trading. Through our experienced teams we provide an independent service checking compliance across a range of media standards. Our rigorous auditing of multiple business types underpins the work of other Standards setters such as BARB and TAG.
Our logo stands for quality and trust in media, empowering industry to trade with confidence. For more information please abc.org.uk/audit-services. For press enquiries, please contact Suzy Saker at press@abc.org.uk or 01442 200788.
About the Trustworthy Accountability Group
The Trustworthy Accountability Group (TAG) is the leading global certification program fighting criminal activity and increasing trust in the digital advertising industry. TAG advances its mission of eliminating fraudulent traffic, facilitating the sharing of threat intelligence, and promoting brand safety by connecting industry leaders, analyzing threats, and sharing best practices worldwide. The 600+ member TAG community include the world's largest and most influential brands, agencies, publishers, and ad tech providers.
TAG is the first and only Information Sharing and Analysis Organization (ISAO) for the digital advertising industry. This U.S. Department of Homeland Security designation means TAG is the primary forum for sharing threat intelligence in our industry.
For more information on TAG, please visit tagtoday.net